Make A Donation
Support Our Service Dogs
Click "donate" to proceed to payment information
Who They Help
Our hearing dogs are trained to alert people who are D/deaf or deaf to sounds. Sometimes these alerts keep people out of unsafe situations, other times, the dogs alert to sounds that their handler encounters in their daily life.
What They Do
Our hearing dogs:
Alert handler to every day sounds like a phone, timer, alarm clock, doorbell, microwave, etc…

After the alert, the dog brings the handler to the sound. 

Alert handler to a smoke alarm. 

The dogs use their body language to alert their handlers to people behind them, cars approaching, people calling their name, or a novel sound out in public.
We trained Brooklyn to alert Eric, who is deaf, to important sounds. Eric bonded with him the moment they met. Eric is completely dedicated to their relationship as a team and as friends. As a team, it's not just about Brooklyn's alerts, Eric is so in tune with his dog, that he can tell when there is a loud sound because of Brooklyn's subtle ear movements. It is this dedication and affection, along with AFF service dog trainers, that made Brooklyn the incredible hearing dog he is today.
One of the most endearing things about their relationship is their little rituals. Brooklyn gives Eric a kiss every time he gets in the car and before he gets out. These moments of consistency are important for service dogs, but also important for the canine-human bond.
Make A Donation
Support Our Service Dogs
Click "donate" to proceed to payment information
Learn more about the program
Psychiatric Service Dogs
Psychiatric service dogs interrupt or prevent things like panic attacks and disassociative episodes.
Mobility Service Dogs
Mobility dogs give people with a variety of physical disabilities more independence.
Program Overview
Our service dog program gives dogs and people the freedom to be who they are without stereotypes.
Apply for a Service Dog
If you live within a 1-hour driving distance of Dutchess County, New York please click the link to apply.
Help Us Bring Dogs and People Together to End Discrimination
Donate Now
Please click "donate" to proceed to payment information.
Animal Farm Foundation is a 501c3 organization. Your donation is tax-deductible.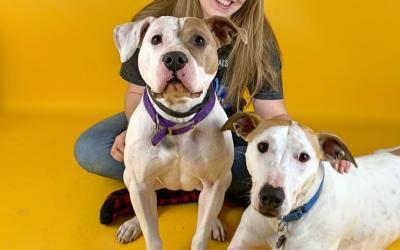 What matters to you? Assumptions or getting to know an individual dog's personality?
See how we worked to achieve our mission in 2018.
The language we use can give people permission to discriminate, whether it's our intention or not.
P.O. Box 624
Bangall, NY 12506
845.868.7559
info@animalfarmfoundation.org
Animal Farm Foundation is a 501c3 nonprofit. All donations are tax-deductible.